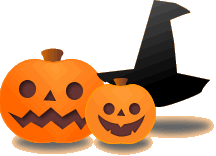 On 28th October 2007, Teacher-student.com's Halloween Party took place in Shibuya. More than 70 people came and join us for the party. We all had a great time, and it was a successful party!
We planned this party to provide our teachers great opportunities to meet new people and to build good relationships with both existing and future students. For students, we intended to offer the additional and special occasion to improve their English skills and different cultural experiences.
We conducted many fun events during the party, such as Human Bingo Game; Costume Contest; giving out prizes. In addition, we introduced participated teachers to our guests by making a presentation with PowerPoint Slides. The party place was full of enjoyment, and regardless of the fact that most students were beginners, everyone actively engaged in English conversations and expanding their networks among the participants.
To see what was like, click the link below:
The pictures can be downloaded through this website.
We do appreciate all of your support and participation.
We hope to keep good relationships between you and us!
Thank you very much.
Sincerely,
Teacher-student.com